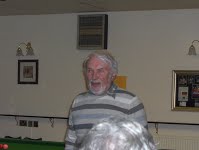 Trevor first started playing in our league in 1958 having previously watched his father John Schofield playing for Christ Church (the team Trevor joined).
Trevor is a dedicated sportsman and always likes to do well in whatever sport he plays.  He is an accomplished billiards player like his father and is always trying to improve his skill with the cue.  He was taught to play billiards in the correct way and has good cue ball control. He is also a good snooker player and excellent tactician. He's not bad at whist either.
He has served as Chairman of our league and helped on the handicap committee. He is one of the league's senior members and an ideal role model.