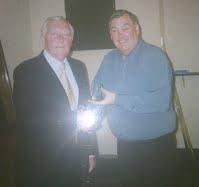 It is such an achievement for someone to play one sport for 50 years and Ken first started in our league in 1954 and is still associated with the league today.
Ken originally played for St Paul's and later joined Mossley A.
He is a well respected member of the league and has won many team or individual trophies. Ken was predominantly a billiards player although he was also a useful snooker player.
He was league secretary between 1974 and 1978 before resigning due to ill health.Over his many years in the league he has played many of the great players who have graced our league.