Hyde glory year ends with near miss
HYDE is in line for more honours from the Stalybridge Snooker League.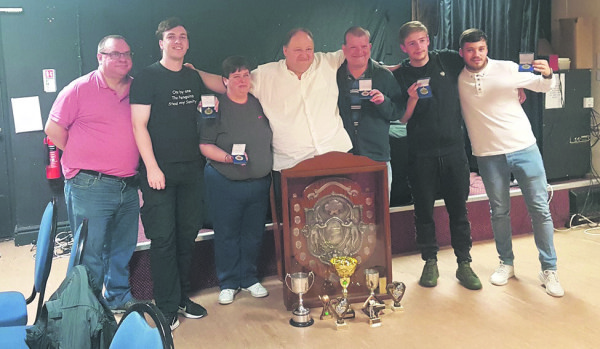 Mark Neale, captain of Hyde Snooker Club's side, fought it out in the final of the individual billiards.
He took on Johnny Taylor, of Staly Vegas, on Thursday, July 11 over the best of three frames – just after the Correspondent went to press.
Mark defeated Pete Barton in the semi-finals, while Johnny saw off Steve Morley to win through to the decider at St Peter's, Stalybridge.
There was a near miss as Hyde pair Chris Longden and Martin Aldred missed out in the final of the Roy Nelson Snooker Doubles Knockout.
Held at Hyde Snooker Club on Thursday, June 27, the duo saw off Kevin Welsh and Matt Barton in the semis but in the final they were defeated 50-19 by the pair of Ryan Lewis and Rob Carter, who became the youngest ever winner.
League business is starting to run down, with individual finals and the 6 Reds Knockout, which was held on Thursday, July 4, completing the season.
It was one to remember for Hyde Snooker Club as it won the double, adding the Berry Cup to the league title.
Going into the final frame of the clash on Thursday, June 6 with Mossley A, they had to either win it or take out the highest break.
And after a game of nip and tuck, with several balls up against a cushion, Hyde carved out a chance and took it to win the match 3-2.
And with them sharing the highest break, the scores were amended to 4-3.
At a management meeting, it was agreed not to play the individual darts and whist trophies this season.
It was also agreed that presentation night would be on August 31 at Hyde Snooker and all arrangements were finalised.
The individual snooker final on June 27 was an all-Mossley affair as Mossley B's Chris Edwards played Aaron Bailey of Mossley A over best of five frames.
Aaron won the opening two 76-52 and 88-56 and when Chris had to win to keep his hopes alive, Aaron triumphed 72-58 to tie up a 3-0 victory.
Pictured: The victorious Hyde Snooker Club team that won a league and cup double.